Fall Open House
Our Fall Open House will be Saturday, October 9, from 2 to 4. We'll have apple cider and sweet treats, children's crafts and story time, and a display of antiques lighting that will include early Mt. Healthy street lights.
Ice Cream Social
The city fireworks, and our cookie sale / ice cream social, were great on July 3rd.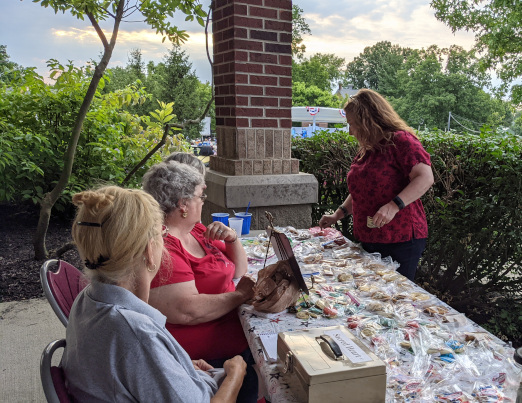 Inventory and cataloging project
In 2016 we began inventorying and cataloging our clothing collection. During 2020 the project was revisited, and now much of this collection has been cataloged, photographed, and stored away properly. We've now turned our attention to the rest of our artifacts.
If you would like to see a small sample of what we have, visit our Flickr page.
A Look Back at the 1950s
Our newest exhibit is on the 1950s. We're featuring items about life in Mt. Healthy during that decade as well as a more general slice of life from the era. We have on display aome things you might remember if you were around then, such as pictures from the Zem Zem and memories of Ludwig Shoes and the old drive-in. We also have some things you probably haven't seen before, including a 1949 Motorola "suitcase TV."